Turkish president threatens to send millions of Syrian refugees to EU
Erdoğan denounces western policy on crisis, as Turkey – already home to 3 million refugees – is pressured to take in more from Aleppo region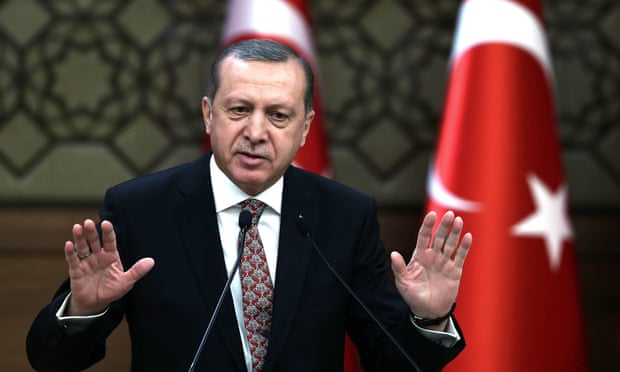 Turkish President Recep Tayyip Erdoğan has threatened to send the millions of refugees in Turkey to EU member states, as Nato agreed to deploy ships to the Aegean Sea to ease the migrant crisis.
In a speech in Ankara on Thursday, Erdoğan stepped up his denunciations of western policy in the refugee crisis, confirming he had threatened EU leaders at a summit meeting in November that Turkey could say "goodbye" to the refugees.
But in a separate move, Nato agreed to send a naval group "without delay" to the Aegean to crack down on the people smugglers who have helped hundreds of thousands of migrants cross to EU territory in the last year.
Alarm is growing in EU capitals that thousands of refugees are still crossing the Aegean daily from Turkey after over a million made the perilous journey last year.
But Turkey, already home to some 3 million refugees, is also under EU and UN pressure to take in tens of thousands of Syrian refugees fleeing regime advances in the Aleppo region.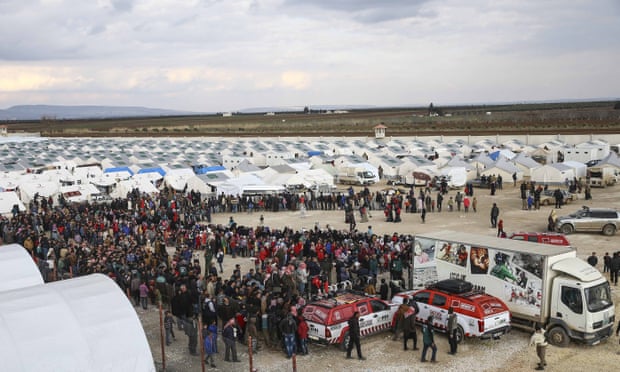 Erdoğan sought to turn the tables on the EU by saying Turkey had every right to send the refugees out of the country if it so wished
"We do not have the word 'idiot' written on our foreheads. We will be patient but we will do what we have to. Don't think that the planes and the buses are there for nothing," Erdoğan said.
Greek website euro2day.gr had earlier this week reported that at the G20 summit in Antalya in November Erdoğan had angrily threatened to European commission president Jean-Claude Juncker that Turkey could send the refugees to Europe.
The website had quoted Erdoğan as telling Juncker: "We can open the doors to Greece and Bulgaria anytime and put the refugees on buses."
"I am proud of what I said. We have defended the rights of Turkey and the refugees. And we told them [the Europeans]: 'Sorry, we will open the doors and say goodbye to the migrants'," Erdoğan said in his speech on Thursday.
He also lashed out at UN calls on Turkey to take in tens of thousands of Syrian refugees from Aleppo region massed on the border with Turkey, saying the United Nations has spent less than half a billion dollars in the crisis.
"Shame on you!" said Erdoğan, saying the UN should be telling states to take in refugees from Turkey.
Turkey is already hosting 2.5 million refugees from Syria's civil war and hundreds of thousands from Iraq, and is increasingly bitter that it has been left to shoulder the burden.
Erdoğan said Turkey had already spent some $9bn (€8bn) on hosting the refugees since Syria's almost half-decade civil war began.
The EU has agreed to give Turkey €3bn in financial aid for the refugees but the funds have yet to be handed to Turkey, two-and-a-half months after they were agreed.
"The €3bn is not in our budget, where has it gone?" asked Erdoğan. "It's for refugees."Turkey orders EU to hand over MORE cash or it will unleash MILLIONS of migrants on Europe
TURKEY issued an extraordinary blackmail note to Europe tonight by threatening to send MILLIONS more migrants into the continent unless the EU agrees to hand over extra cash.
07:37, Fri, Feb 12, 2016 |
The country's president Recep Tayyip Erdogan pledged to put huge numbers of refugees on buses and planes unless European leaders give him more money to host people arriving from Syria.
In a bombshell rant he lashed out at both the EU and UN, who have criticised his country for not opening its border to more refugees 
In recent days, world leaders have called on Turkey to take in

Syrian refugees

fleeing Islamic State (ISIS) and Russian air strikes on its southern border.
But Mr Erdogan retaliated in extraordinary fashion yesterday, threatening to "open the gates" and let millions of migrants into Europe.
GETTY
Turkish President threatens to send buses full of migrants to Europe
REUTERS
The threat follows what Mr Erdogan described as a "shameful" response to the Syrian migrant crisis
He laid out the threat to his EU counterparts, including EU Commission President Jean-Claude Juncker, that the time could come when Turkey stop trying to prevent migrants from reaching Europe.
He said the Turkish government was being taken for "idiots" by Brussels and insisted he was "proud" of the threat during a high-level EU meeting, insisting he was "standing up" for his country. 
REUTERS
He said the Turkish government was being taken for "idiots" by Brussels
He warned the EU: "I am sorry but we can open the doors, and tell the migrants 'have a good journey.'
"Don't think that the planes and the buses are there for nothing.
We will do the necessary." 
REUTERS
"I am sorry but we can open the doors, and tell the migrants 'have a good' journey'"
The threat follows what Mr Erdogan described as a "shameful" response to the Syrian migrant crisis.
Mr Erdogan said his government was currently preparing for an exodus of 600,000 people from Aleppo, in Syria, which has been encircled by forces loyal to brutal dictator Bashar al-Assad.
He raged: "The United Nations should give advice to other countries. And then we can send the refugees to these countries."We will show patience up to a point, and then we'll do what's necessary."
Michele Bachmann: Muslim Migrants Rape Women To Commit Jihad And 'Destroy Western Christendom' Submitted by Brian Tashman,
on Monday, 2/8/2016 2:05 pm

Michele Bachmann spoke with End Times radio hosts Jan Markell and Eric Barger on Saturday about the migration of Muslims into Western Europe and the United States,
calling it a "planned invasion" meant to destroy "Western Christendom." "This clearly is an invasion,"
Bachmann said. "This is a planned invasion, not only in Europe but also in the United States, I believe for the specific purpose of destroying Western Christendom."
Bachmann said that countries with large Muslim minorities like France now experience "Islamic jihad 24/7, terrorist bloodbath attacks 24/7," warning that the same thing is coming to the U.S. unless we decide to have "no more immigration into the United States."
Now, Bachmann said, Muslim migrants are raping Western women as part of their religious terrorism. "The more that come in, the more they act upon their religious convictions and their stated religious convictions," she said. "The imams from the original countries that they come from, they recruit and send these guys to come in and to bring about this destruction.
Right now in Europe it's called a 'rape culture' that's coming into Sweden and Germany and all across Europe for the specific purpose of Islamizing these countries, and they are falling." "Islamists have a plan," Bachmann later added. "They have a plan to destroy Western Christendom.
It's called civilization jihad. By bringing Islamists into our country and destroying us from in, they don't need to just have a nuclear bomb. If they send their invading army into our countries and if young men are doing what they did on New Year's Eve in Cologne, Germany, and other places where they are literally sexually attacking and raping and groping women and causing them to fear, we are looking at a completely ramped-up level of invasion one like we have never seen before."
"Not only is Europe getting that, the United States is getting that, but we need to recognize what is happening," she said.
"This isn't unintentional. This is intentional and it's meant to destroy Western Christendom."
The former congresswoman and GOP presidential candidate then said that Muslim migrants from countries like Pakistan and Iran may pose as Central American refugees in order to enter the U.S., all thanks to Obama's refugee policy.
Earlier in the same interview, Bachmann suggested that President Obama is an Antichrist-like figure bringing about the Last Days. Filed Under People:Michele Bachmann, Jan MarkellTopics:Islam, Anti-Muslim, End Times –
See more at: http://www.rightwingwatch.org/content/michele-bachmann-muslim-migrants-rape-women-commit-jihad-and-destroy-western-christendom#sthash.0bSpzpbg.dpuf
Migrant crisis explained in numbers
Wed, January 27, 2016
A monthly record of 218,394 migrants and refugees reached Europe by sea in October, the UN says, almost as many as the total number of arrivals in 2014. We take a look at the shocking statistics facing the humanitarian crisis.
The combative leader also said the £2.3billion in aid promised to his government by European leaders had yet to be delivered nearly three months on.
The deal, backed by the British government, was struck late last year and included a promise that Turkey would get billions in aid in exchange for stopping the flow of migrants.The agreement also allowed Turkish citizens to start visiting EU member states without visa restrictions from later this year.Turkey has already been struggling to cope with more than 2.5 million refugees on its soil, spending more than £6 billion on hosting them since the Syrian civil war erupted in 2011.